WEDNESDAY 12/23/2020 is the final day of school before the Winter Break. School will start at 8:00 a.m. and dismiss at 11:30 for ALL students in K-12. No Lunches will be served. We wish you all a very wonderful, healthy, and happy break and look forward to seeing everyone Monday, January 4, 2021!

There will NO Basketball games this evening 12/18/2020. We will work with Lakeside to reschedule to a future date!

Basketball Update for 12/18/2020. Girls Game ONLY starting at 5:00 p.m. Due to a limited number of players Lakeside we will not have a BOYS game.

Basketball Update NO Junior High Basketball Games on 12/17/2020 High School Basketball Games on 12/18/2020 will be Girls Game ONLY starting at 5:00 p.m. Due to a limited number of players Lakeside we will not bring players for a BOYS game.

Due to the road conditions U.S.D. 401 will have a 2 hour late start for Grade School on Wednesday December 16, 2020. No breakfast or A.M. preschool. All classes will begin at 10 a.m.


Falcon Class Basketball Update We were notified today that the Chase Boys team will not be playing due to a lack of players able to compete from the opposing team. Lady Kats game will begin at 5:00 Parents and Guardians (up to 2) will be able to attend tonight's contest if your name is on our list. Please contact Chase High School Office if you have additional questions. Live Stream will be on youtube from the Fairfield schools page found at
https://www.youtube.com/channel/UCcuC7qCCtwYGj5azNgWccUg/featured



Otis-Bison vs. Chase Basketball - Falcon Classic - December 8, 2020 Link:
https://youtu.be/_ZXmvkLv1XA
              Description: Falcon Classic 2020  Otis-Bison vs. Chase Basketball @ Fairfield.  5:00pm Girls  6:30pm 



This week is a busy week in sports for RJH and CHS. Be sure to follow to app and subscribe to the USD 401 Activities Account on YouTube to watch your favorite Bulldogs and Kats play. Monday- RJH hosts Otis Bison- Games begin at 4p.m Tuesday- CHS travels to play in the Falcon Classic at Fairfield- Both Teams will play Otis Bison Girls at 5:00 and Boys to follow. Thursday- RJH hosts Tescott- Games begin at 4 p.m. CHS teams will have the second round games either Thursday or Friday. Additional information will be provided to include links to watch live streams.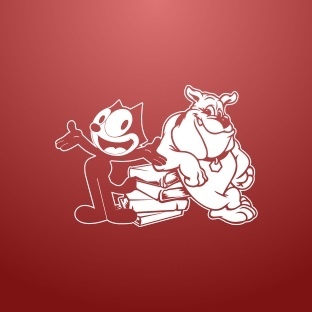 After some technical difficulties we have a new link to the Boys BB Game at Thunder Ridge on 12/04/2020. Subscribe to the USD 401 Chase Raymond Youtube Page.
https://youtu.be/gEO4rXpqhoU


After the recent KSHSAA decision that allows NO spectators to attend Winter Sports events. Although we are sad our students will not see your support in the gyms we are grateful to still play the games. We want to share with you that we will have Live Stream Links to watch the RJH Basketball and CHS Basketball games whenever possible. Please tune in to cheer on our student athletes! Raymond JH Basketball vs. Wilson (12/03/2020)
https://youtu.be/GSSs6rKUjaQ
Chase HS Basketball @ Thunder Ridge (12/4/2020)
https://youtu.be/XA0N-BwiVyw

RJH/CHS will continue with Remote MTSS and On-site instruction beginning at 10am for the remainder of the 1st semester. Adaptations have been made to allow students enrolled in CTE or classes that require tools or equipment will be able to go to those learning labs and move away from online only instruction. Additional information can be found on the USD 401 Website, App, or in parent emails.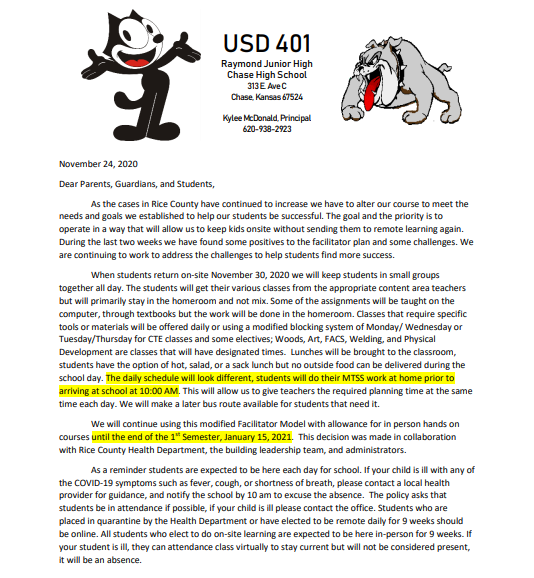 Due to the uncertain nature of the winter sports season, with an upcoming vote from the KSHSAA that could delay or change the winter activities as currently scheduled. It is out of this concern we have moved the 8th Grade Student Athlete and Parent Recognition will be Monday, November 23, 2020 for Raymond Junior High Basketball. Order of Events/play begins at 4:00 p.m. as follows: A Girls, B Girls (2 Quarters), 8th Grade Students and Parents, A Boys. We thank you for your understanding as we continue to work through the ever changing environment of the 2020-2021 school year. Thank you for your support!