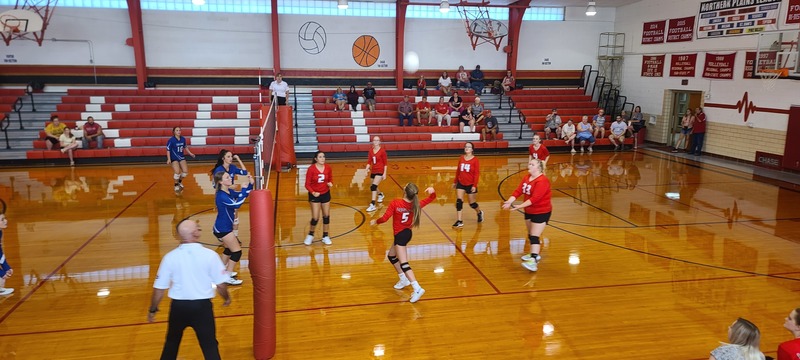 USD 401 - Chase-Raymond School District
Press Release
Date: August 31, 2022
Subject: Lady Kats Volleyball Season Opens With Win Over Tescott
The 2022 Chase Kats high school volleyball season opened this past week with matchups against several local and league teams from across north central Kansas. On Friday, August 26th, the Lady Kats were on the road to Natoma for a Triangular against the Tigers and the Lady Longhorns from Thunder Ridge High School. The Kats played strong in the first set against the Lady Tigers, but fell short in a late surge, dropping the match 2-0 (25-27, 12-25). Against a very aggressive and larger Longhorns team, the Kats struggled to make headway in the hot and humid Natoma gymnasium, losing 2-0 (12-25,10-25).
On Tuesday, the Lady Kats hosted a triangular against the Tescott Trojans and the Lincoln Leopards. The opening matchup between the Lady Trojans and Lady Kats would prove to be a drawn out battle, going three sets that scored very close. In the end, the Kats came away with the win, taking the final points beyond 25 to win 2 sets to 1 (25-20, 21-25, 27-25). Seniors Cassie Herrera, Isabella Antuna, and Kinsley Wood pushed the squad through the final stretch of the third set to secure the win. In the final varsity matchup of the night, the Kats faced off against the Lincoln Lady Leopards, who had played strong against the Lady Trojans, winning the match in 2 sets (13-25,23-25). Senior Kaycee Murphy came off the bench to fill in and help Juniors Melea Ryan and Abigail Blackburn take the Leopards to the very end of the first set, falling 24-26. The Lady Kats fell to the Leopards in 2 sets (24-26, 15-25).
Sophomore Jersey Meyeres was tasked with anchoring the JV squad as well as being the primary setter for Varsity as well, showing strong grit and determination. The JV team split with the JV Lady Trojans (21-16, 14-21) and swept the JV Lady Leopards (21-13, 21-20) for the final action of the night. Coach Celena Feil was really proud of how hard the girls worked through the night. "They have all come a long way in the last 15 days, especially having had to learn a completely new rotation."
The Lady Kats are on the road to Wilson on Thursday, September 1st for a Quadrangular with Wilson, Central Plains, and Natoma.